BWN-FBT-SM 1X2 1X2 Optic Fiber Splitter with Steel Tube Singlemode Dual Window Fiber Optic Splitter, FTB Splitter, PLC splitter
Fiber Optic Coupler reduces insertion loss and deliver high performance. These devices enable more effective monitoring and management of optical networks. They are available as components, in our quick connect cassettes, or in custom modules and rack-mount designs.
Optical coupler is also called optical splitter, is one of the most important passive devices in optical fiber link, and is with multiple inputs and multiple output end of the optical fiber connected devices. The fiber optic splitter by the light splitting principle can be divided into the fused biconical taper (FBT type) and planar wave guide type (PLC type).
Performance Specifications:
Type

Single mode 1xN FBT splitter, optical coupler,

Coupling ratio,50%:50%

Dual Window

Single Window

Double Window

Central wavelength (nm)

1310 to 1550

1310 or 1550

1310/1550

bandwidth(db)

±20

±40

±40

Additional loss(db)

≤0.15

≤0.30

≤0.30

Insertion loss (db)

≤3.3

≤3.5

≤3.5

Min directionality (db)

≥45

≥45

≥45

Operating temperature

-40-- +70(℃)

Uniformity (db)

Couplers with uniform coupling ratio has this requirement

Applicant stndard

YD/T 893
Specifications:
Grade

P

A

Coupling ratio:

/Insertion Loss(dB)

1/99

≤22.5/0.25

≤23.5/0.35

2/98

≤18.8/0.3

≤19.5/0.4

3/97

≤17.0/0.35

≤17.8/0.45

5/95

≤14.6/0.4

≤15.5/0.5

10/90

≤11.2/0.75

≤12.0/0.8

20/80

≤7.9/1.3

≤8.4/1.4

30/70

≤6.0/1.9

≤6.3/2.1

40/60

≤4.7/2.7

≤4.9/2.9

50/50

≤3.6

≤3.8
Features:
Low excess loss
Various coupling ratio
Environment stable
Single mode and multimode available


Applications:
long-haul telecommunications
CATV systems and fiber-optic sensors
Fiber optic communication system
Local area network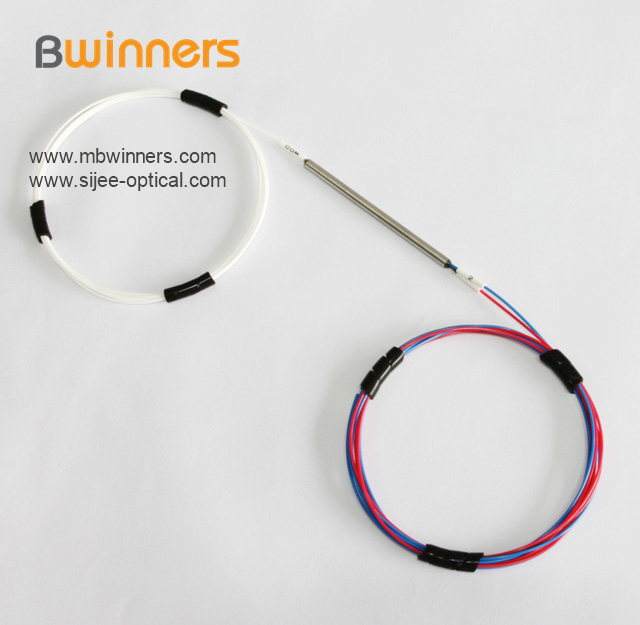 Sijee was established in 2002. Our factory is located in Ningbo, the exact address is No.20 Chuangxin East Road, Liyang Town, Ningbo, Zhejiang, with the factory area of more than 28,000 square meters. Sijee's products have passed the ISO9001 , GB/T24001-ISO14001, and GB/T28001-2001, Sijee has also established an environmental management system and occupational health/safety management system. Sijee won bids several times within many years from China Mobile, China Telecom, China Unicom's procurement projects. Some products were exported to Europe and America, Southeast Asian countries.
Sijee has a talented and professional team engaging in sheet metal case/cabinet processing, urban facilities, communication equipment research and development, design, manufacture, and sales. Sijee, as a relatively large domestic telecommunications equipment and distribution products and plate metal case/cabinet suppliers, focuses on providing service to domestic and foreign operators, large domestic listed companies and radio and television bureaus to provide first-class products and FTTx overall solutions.
Sijee Telecom Communication products include: Dome Fiber Optic Splice Closure, Fiber Cable Joint, FOSC Fiber Optic Joint Box, Fiber Cables Enclosures, Compact Fiber Optical Splice Closure Box, FTTH Splice Closure, Fiber Optic Splice Joint Closure, Plc Splitter/ Plc Splitter Box/Juction Box Fiber Odf Optic Closure, Small Fiber Optic Splice Closure, FTTH Optical Fiber Cable Joint Closure, Fiber Optical Distribution Box, FTTH Fiber Optic Socket Face Plate, Fiber Optic Patch Panel, ODF Optical Fiber Distribution Frame, OCC Optical Fiber Cross Connection Cabinets, Network Cabinet, Equipment Enclosure, PLC Splitter, Patch cord, Adaptor, FTTH Accessories, etc.
Sijee Equipment Enclosure includes all kinds of Equipment Enclosure, wall mounting enclosure, junction box, network box, electrical enclosure box, stainless steel enclosure, electronic equipment racks, metal cabinets, metal enclosure CATV enclosure, etc.
Sijee has a first-class sheet metal equipment workshop, and a special sheet metal product design department, the workshop has large laser cutting machines, CNC punching machines, CNC bending machine, CNC shears, robot automatic welding lines, automatic bending machine, variable pump injection molding machine with different tonnages, a number of standard assembly lines, with a strong sheet metal design and processing capacity, Sijee provides more than 800,000 various sheet metal cabinets and over 100 Million sets of fiber optic splice closures to domestic operators annually.
Sijee is equipped with a full set of advanced testing and test equipment and specialized testing laboratories. Sijee has good after-sales service, and always pursues the "quality to win the trust, honesty to pursue development" business philosophy to meet customer needs at best, as our unremitting efforts to the goal.